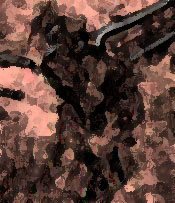 Just last night
I heard love mutter alone.
A bridge down
been around
where some need ever time.
Stories-life-of-us-now together
not even one night.
Let him go,
and already I could feel
each of us pulled tightly
as if exacting angel.
Be said or done in truth or pretense
to soften grief or give joy to this dream.
Easy time, the relief of work hindered
thinking only with my fingers.
Oh, transforming the breifest glimpse-
artwork I can feel, shape, turn,
and God help me hold.