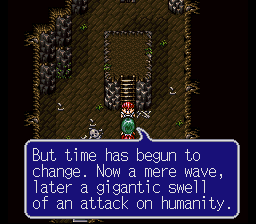 This post's screen shot is from Lufia 2 (SNES). I'm sure there was an elegantly put metaphor in Japanese, but there is no such luck here.

Do you ever get a sense that nothing you ever do is the result of purely what you want to do for yourself? Even if you think you're doing something for yourself, it is always weighed down by its relationship to other people. The things we do are controlled by a set of standards that are not exclusively our own. Ideas of 'normalcy' and 'supposed to' are so second nature, we don't even consider them as we fall into line.

Part of the normalcy we need to feel is useful. The idea of being useful is pretty ambiguous, but it seems like most of our existence is based on it. It's a constant pressure and motivator. I once wrote that I should 'be content with being the being who strives', but what about being content with just plain being oneself and nothing else?

I don't think I'll ever be content to be still. Stillness becomes guilt at not being busy, which is not stillness at all. Being busy doesn't even mean actually doing anything truly important, it means being in a constant state of doing or even active procrastination. Relevance is secondary to making sure you're active. Being in motion, even if you're not getting any important done, becomes more important and valuable that being still. But, it isn't.

For one's own health and well being- and to have the ability to accomplish really important things- one must have periods of stillness, self, and relaxation. The mind needs a break to reflect and remember what is important and real in the largest scope possible. I'm not talking about some "in 5 years where do you see yourself' question, but reflecting upon the question of why existing itself is important and necessary. I've never had a complete answer to that and probably never will, but each time I think I further understand a piece of that why, life becomes better, easier, and stronger in its vibrancy.

Being. Actually being, with a real identity and purpose, is far more important than being busy.

It can be very hard to force oneself to be still.