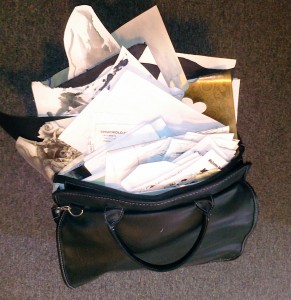 My first attempt at keeping journals was unsuccessful. You get these ideas from people that things must be done a certain way. You say, "Dear Diary", keep a record of events and thoughts, and write daily. You start on page one, you always write the date, and for the most part, you write.

When I was in high school, I was given another set of ideas behind journaling. Instead of a book of lined paper I was given a book of acid free, white paper that was as great for drawing, writing, or pressing fall leaves. I was told to fill it up with whatever.

The art teacher showed us his. Some pages were writing, some doodles, some serious sketches, and some contained nothing but a business card and some notes. There were saved napkins, random thoughts, lists, and newspaper clippings. He explained that a journal was for all kinds of things. It was there to help us record whatever and it didn't matter what it was as long as you filled it.

Other journals I would start and write a few dated entires, not write for awhile, begin the next with an apology and a new commitment. Maybe I'd get to page ten.

The first book I filled was still from page one, but I filled it to the end with writing, drawing, painting, collages, clippings, thoughts, doodles, ticket stubs, and anything else.

These days I've found that I loathe page one. The pressure of beginning and end doesn't lend itself to capturing a moment, or any space of real time. You can't chronical it all in a time line, because when it's happening we're out there living it. To try to relive the exact thing on a page is tedious, boring, pointless, and really impossible. Instead I collect bits, reflect, and reassemble. It wasn't before long that I started keeping a collection of paperish stuff. It didn't matter if I didn't have the time to say "Dear Diary" every day. When I went to a concert, I would keep the ticket stub. When I made an elaborate doodle on a post-it, I kept it. Ever wonder what to do with the cards you get, the packaging that seems too pretty to throw out, or the best fortunes you get from cookies? What about the posters that are too ragged for the wall or the wonderful color you saw in the hardware store and you grabbed a swatch of it?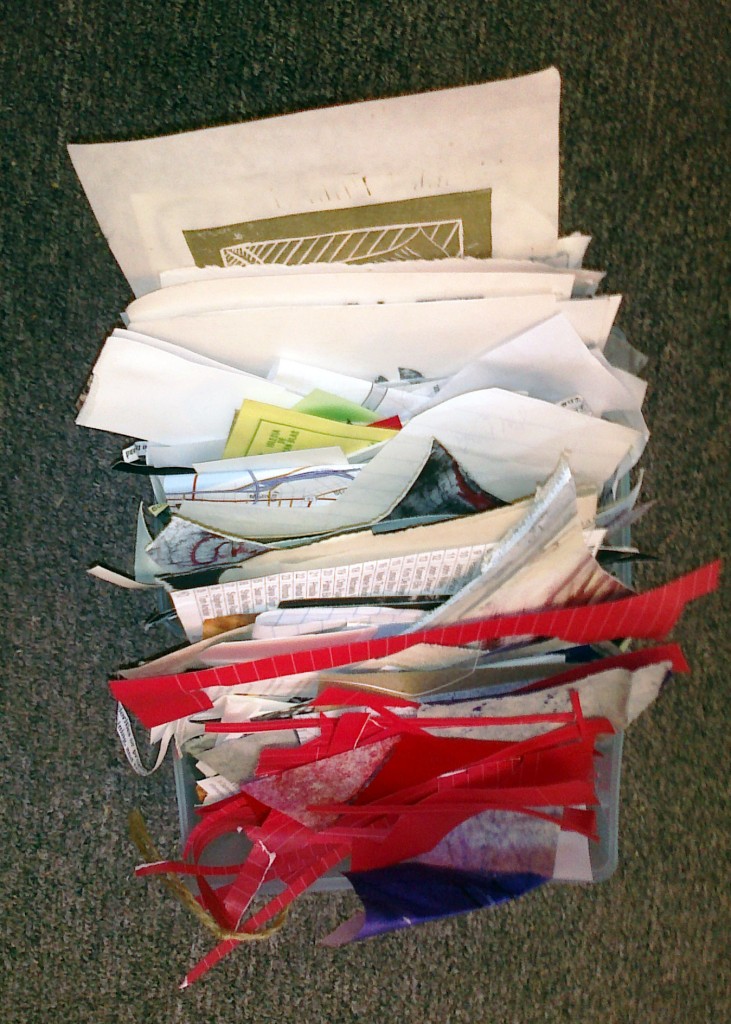 Who ever said that they needed to go into the book the same day?

Years later, my first few folders are now a large leather case and a small plastic box. The big case has full pages and stuff I just haven't looked at. When I am journaling, I can grab something from the case to put in. I usually cut it up and collage it. The small box is for the little pieces that are left, but I don't want to throw away. That bit of gold paper might work on another page.

I befriended glue sticks and scissors, magic markers and pens, a utility knife, a glue gun, and colored pencils. I don't like to be idle while watching TV or a movie or listening to music. I might be giving the book my full attention or just my subconscious.

I have more than one book going at the same time. I add to old pages as often as I start new ones. A bit from 1998 might be on the same page as 2008. I care more about the order of composition than the order of time. It's how real life works anyways. In a weeks time you won't remember the exact order of everything you did last week. It doesn't matter either because you today are parts of your past, but not in any kind of time order. The events from 1998 sit beside those of 2008 in how they've shaped you. If that makes sense, they can make sense on a page next to each other.

Why do we try to make a strait line when a journey has twists and turns?